Schools (k-12)
Virtual "Live" Interactive Programs:
>Virtual Art Assemblies
>Virtual Art Workshops
>Virtual Museum Tours
 
Pre-recorded Art Instruction Videos
 
 
We are offering virtual live assemblies, workshops, and museum tours for students. 100% interactive -- our virtaul programs maximize creative fun for all ages. Our in-person murals and programs are temporariily suspended as we await news about covid. We are here to serve your school, email us for information: joyce@imaginearted.com.
arts-in-ed assemblies and workshops
Based on Joyce's acclaimed art books, scroll down to choose your topic.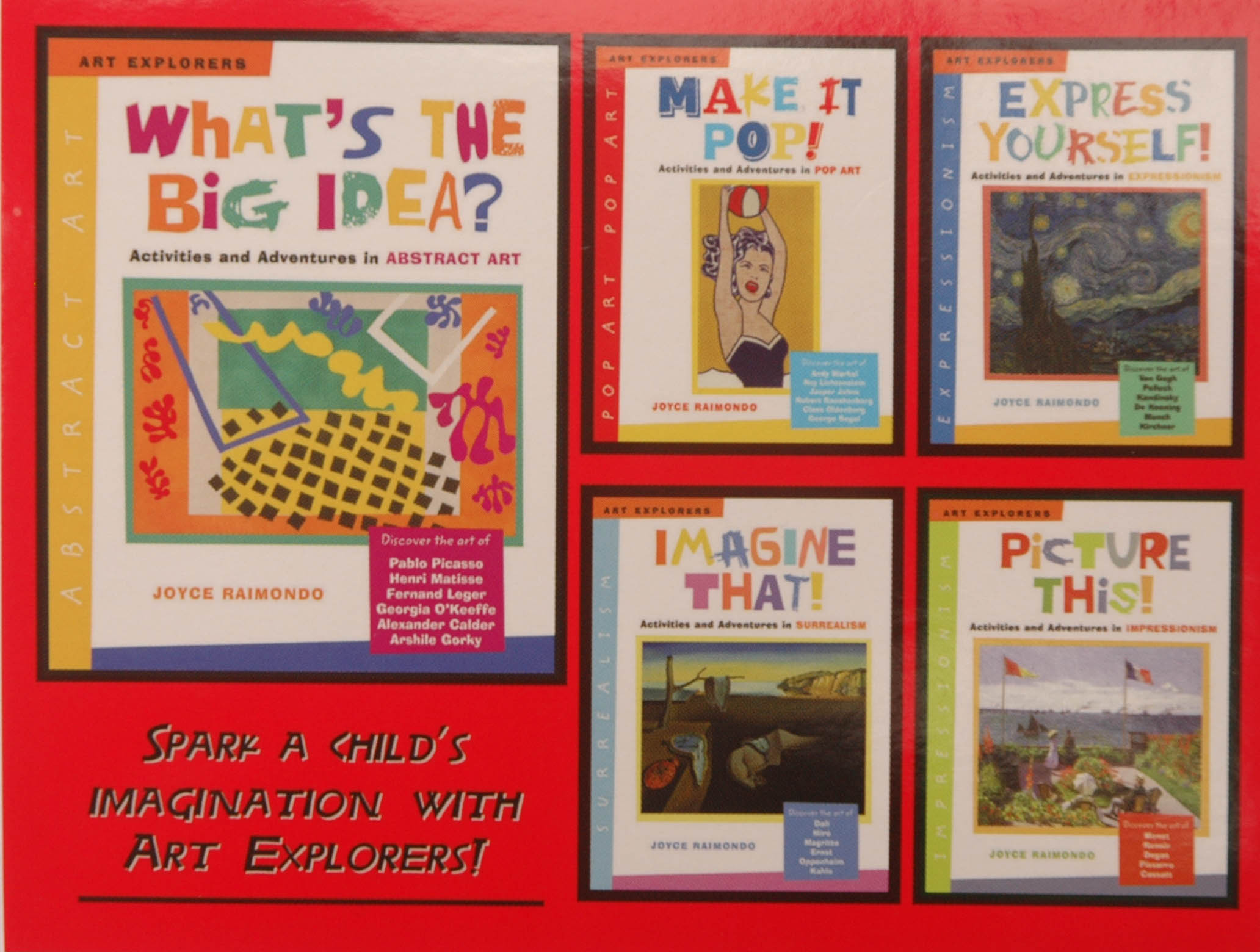 Nationally acclaimed author, illustrator, and leading educator, Joyce Raimondo and the Imagine That! team, spark children's creativity as they explore masterpieces of art during interactive assemblies. Guaranteed 100% student participation, we invite students to express their ideas about what they see in masterpieces by van Gogh, Picasso, Pollock, and other famous artists. Joyce also shares her own art and the personal inspiration behind her creativity. Based on Joyce's award winning art books, books, schools can schedule related hands-on workshops in which students explore innovative art methods inspired by famous artists.

Our groundbreaking approach is designed to MAXIMIZE CREATIVE THINKING. All students develop confidence to articulate their opinions, as they debate, analyze, and interpret great artworks. Students learn that everyone has his/her unique way of thinking and to celebrate the diverse views of classmates.

BENEFITS TO STUDENTS - GUARANTEED!
Addresses Common Core Standards
Prepares students for English Language Arts Test.
Meets New York State Standards for the Arts.
Addresses character education and social-emotional learning.
Inspires unity and diversity.
Inspires teamwork and leadership.
Teaches visual literacy.
Students will:
Develop language skills
Develop observation skills
Develop critical thinking skills
Gain confidence speaking within a group
Debate and accept varied opinions, respect others' veiwpoints
Gain knowledge and enjoyment of art history
Develop the ability to describe, analyze, and interpret artworks
Express themselves creatively through innovative art methods and discussions
Express a range of emotions and imagination
Believe in the possibility of having a creative career and the ability to follow one's dreams

BENEFIT TO TEACHERS: Every program includes creative post-visit activities related to the school curriculum that teachers can carry out our visit. Hundreds of principals and teachers have praised the Imagine That! approach - we encourages social-emotional learning, "visual literacy," and creative thinking all while having fun.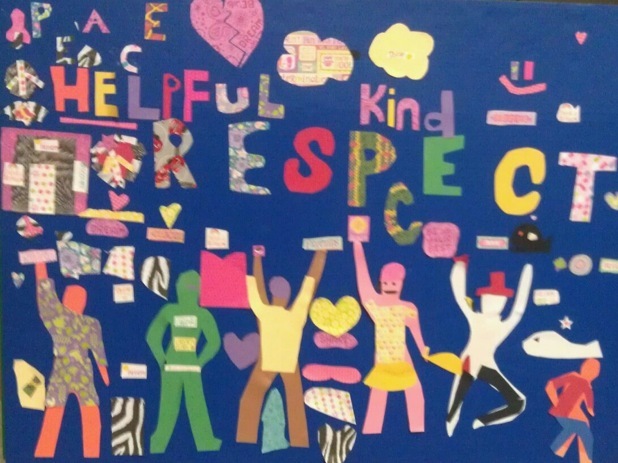 EXPRESS YOURSELF! FEELINGS IN ART >Anti-Bully Program

Character education through art. In addition to "zero tolerance" policies, negative bullying behavior needs to be replaced by POSITIVE BEHAVIORS. What do you do when you are happy, sad, frightened, or mad? Discover creative and constructive ways that artists from van Gogh to Pollock express their feelings. This program creates empathy, respect, and a sense of community by showing students how to embrace diversity of ideas in art and the opinions of their classmates. During lively discussions about art, Raimondo shows students how to listen to each others' opinions and truly celebrate each others' unique ways of seeing and learning.

Building social skills, students work in teams to create poster display boards that promote positive character attributes such as respect, kindness, and sportsmanship. Also available; students express emotions in projects inspired by the artists' techniques such as mixed up Picasso feeling faces, Pollock drip painting, and more.

Additionally, schools can choose to have the students' posters developed into permanent murals painted in hallway. Scroll up for mural information.


Curriculum Connections: social-emotional learning, character education, anti-bullying program, visual literacy.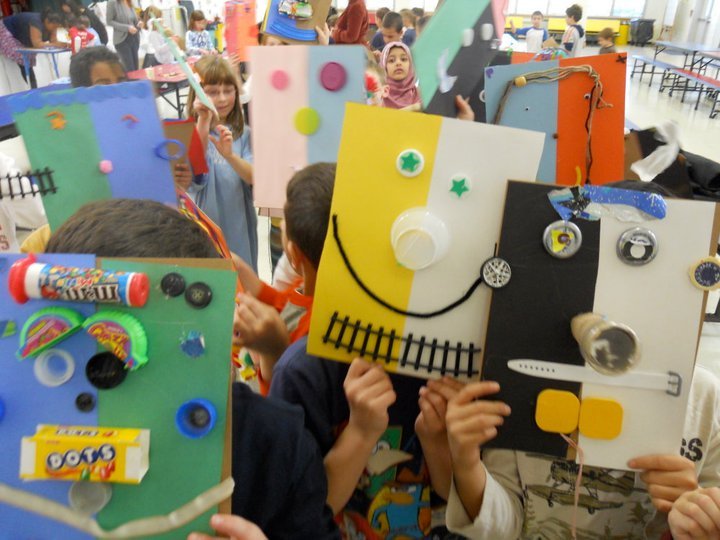 GO GREEN! RECYCLE FOR ART
Old toys, trinkets, broken jewelry, bottle caps, and more! During fun-filled slide shows, discover how famous artists Picasso, Calder, and others turned throwaway things into masterpieces. Then, transform junk into treasures of art. Create Picasso inspired faces, whimsical animal sculptures, mystery boxes, and more out of 100% recycled items. Projects featured in Joyce's book What's the Big Idea.

Curriculum Connections: environmental studies, recycling, celebrate Earth Day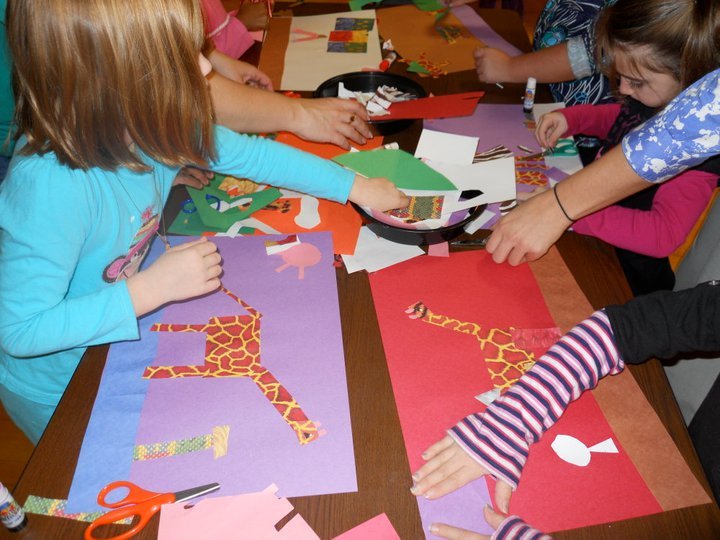 ART SAFARI! ANIMALS IN ART
Encounter fantastic animals in modern masterpieces by Picasso, Chagall, Rousseau and others. Then explore the wilds of your imagination in Fantastic Animal Collages or Amazing Clay Creatures. Joyce is author of The Museum of Modern's Art's Art Safari series. Students can follow up by writing stories and making art online at The Museum of Modern Art's Art Safari interactive website www.moma.org/artsafari created by Joyce Raimondo.

Curriculum Connections: English Language Arts, creating narratives, visual literacy, art of illustration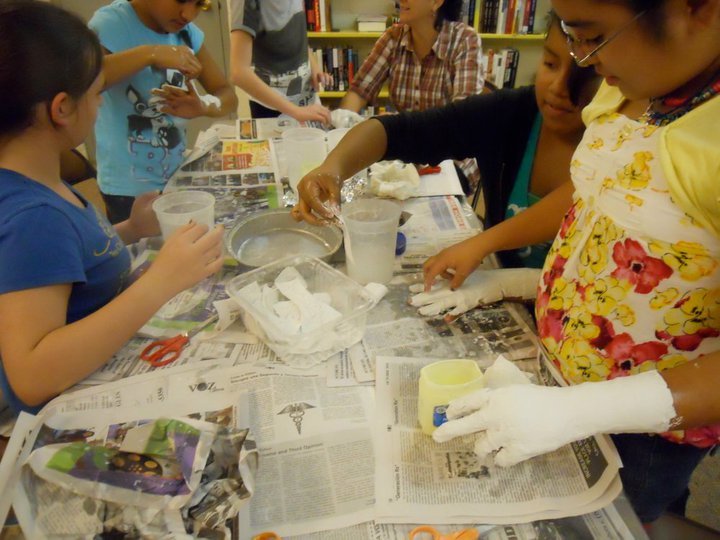 MAKE IT POP! POP ART
How can a fast food hamburger become a great masterpiece? Discover how Pop artists Warhol, Lichtenstein, and others transform everyday things into thought-provoking works of art. Then create your own Pop art hand casts like Segal, portrait prints like Warhol, soft sculptures like Oldenburg, and more.


IMAGINE THAT! SURREALISM
- Nominated Texas Blue Bonnet Award
Melting clocks! Combs the size of your bed! Enter a fantastic dream world created by Surrealist artists Dalí, Magritte, Kahlo, Miró, and others. Then discover your wondrous imagination as you create fantasy collages and other projects inspired by Surrealists.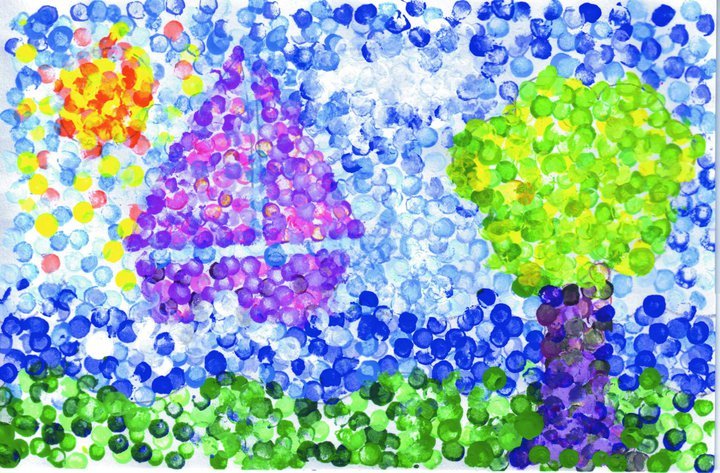 PICTURE THIS! IMPRESSIONISM
Visit a sunny seaside or stroll through a garden full of bright colors. Journey through a beautiful world of Impressionist art by Monet, Degas, Renoir, Cassatt, and others. Then, create paintings inspired by Impressionists filled with dabs of color without using a paintbrush!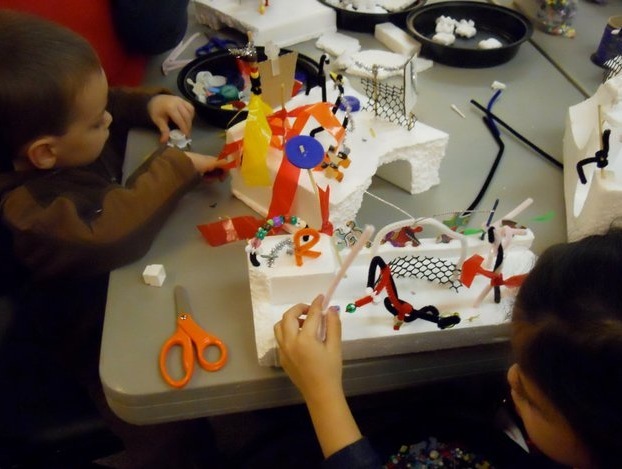 WHAT'S THE BIG IDEA! ABSTRACT ART
Art does not have to look real to be great! Explore amazing mobiles by Calder, colorful collages by Matisse, mixed up faces by Picasso, or drip paintings by Pollock as you discover what creativity is all about. Then, set yourself free as you create amazing abstract sculptures, prints, painting, and more.


PLUS CHECK OUT THESE EXCITING NEW TOPICS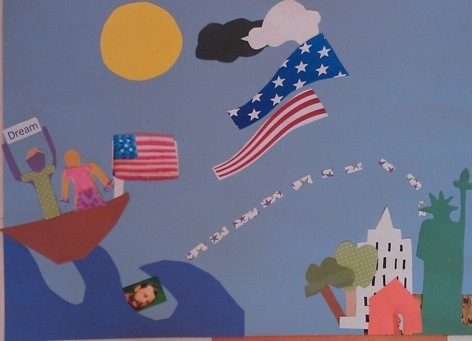 NEW! THE AMERICAN DREAM: Immigration and Art
What is the American Dream? What freedoms do people seek in America? What hopes, dreams, or difficulties might a person have when moving to a new place? During an interactive art show, students explore the immigrant experience in famous paintings. Rather than lecture, Raimondo prompts students to interpret what they see in art, and use it as a springboard for discussion of American history. Folllowing, students create collages that depict the American immigration experience.

Curriculum Connections: social studies, American and local history, social emotional learning, visual literacy, Common Core Standards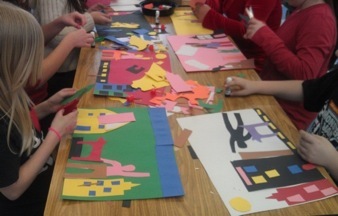 PARP PROGRAM! READ ME A PICTURE! ART AND LITERACY
Where can you see a monkey flying above a city and an elephant on roller skates? Dive into the imaginative world of amazing art and illustrations by Henri Rousseau, Marc Chagall, Faith Ringold, Maurice Sendak and others. Tell fantastic stories about what you see. Look for visual clues to describe the setting, characters, and action in the pictures. Then create your own imaginative story picture using cut paper collage. Designed for grades k-6, this program encourages visual literacy, the development of narratives by looking at pictures, writing, reading, art, and verbal skills. Students can follow up by writing stories about their artworks and creating narratives about famous artworks online at The Museum of Modern Art's Art Safari interactive website www.moma.org/artsafari by Joyce Raimondo.

Curriculum Connections: Parents as Reading Partners, creating narratives, literacy, art of illustration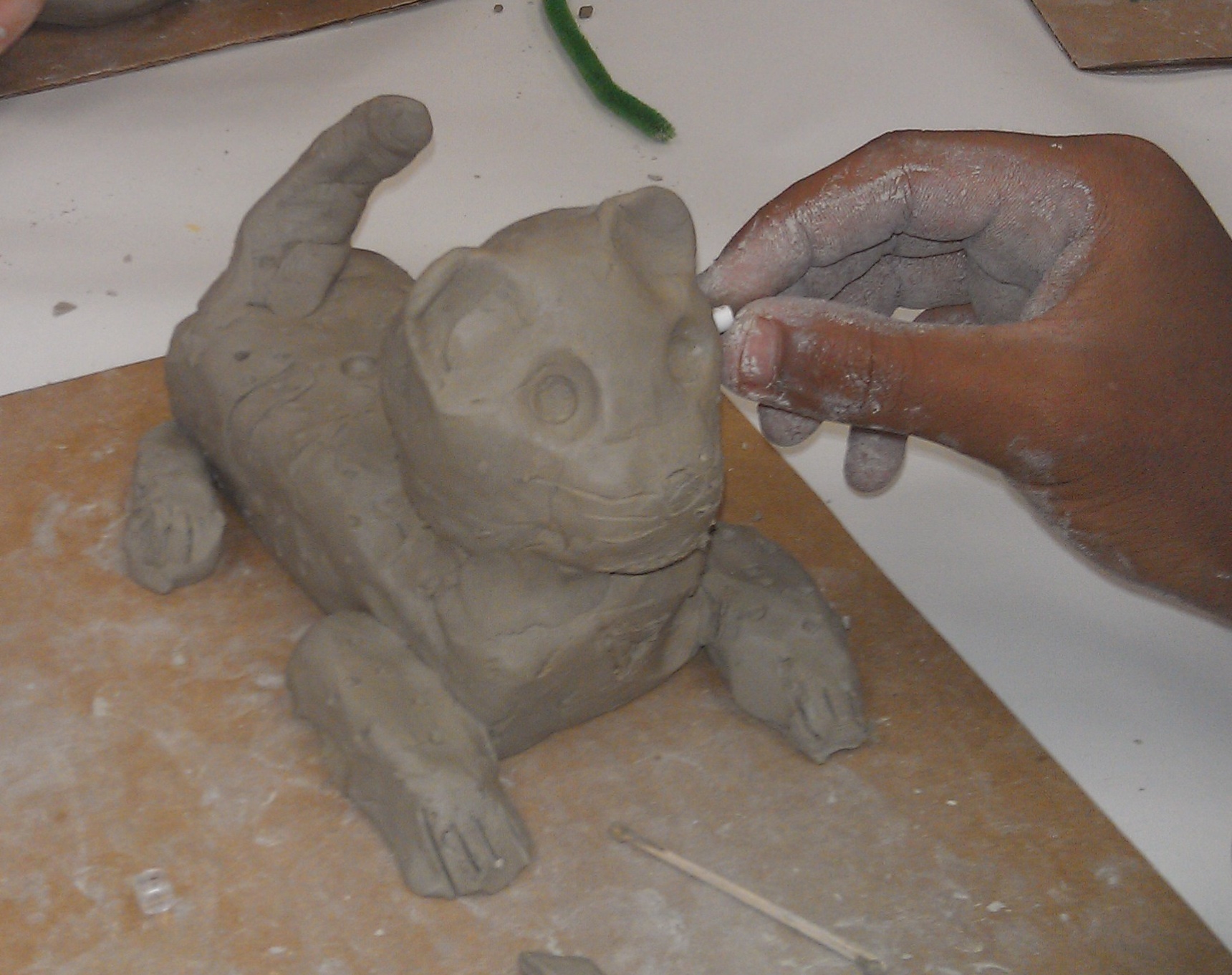 EGYPTIAN EXPEDITION
Go on an expedition through the magical world of ancient Egyptian art during interactive slide show assemblies designed for young viewers. Discover the stories behind amazing mummies, sphinxes, pharaohs, and more as you uncover art treasures in Egyptian tombs. Raimondo prompts students to look, question, and share ideas as they discover for themselves what Egyptian art is all about. Also available; related hands-on workshops in which children recreate Egyptian art for display in their Egyptian school "museum." Other world art topics available; Ancient Greece, African Art, Medieval Art.

Curriculum Connections: ancient history, social studies, world religions, museum studies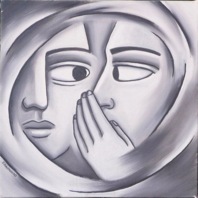 FOR PRE-TEEN AND TEENAGERS!
FIND YOUR VOICE AS AN ARTIST!
During interactive slide shows, Joyce Raimondo, shows students how her life developed as an artist from early childhood to adulthood. Joyce invites students to share their own interpretations of her dramatic autobiographical artworks. Presenting the story of her life through art, she shows how art is a vehicle of expression during difficult and joyful times. Raimondo exemplifies careers in the arts as an illustrator, book author, museum educator, and fine artist. She inspires students to follow their passion while being of service to others.

Curriculum Connections: character education, career development, memoirs, auto-biography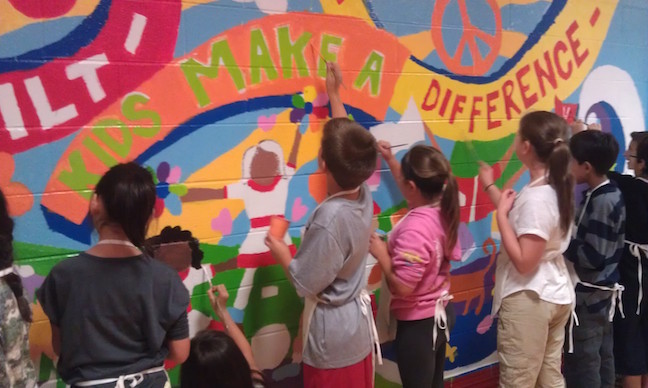 Trips to Jackson Pollock's House and Outreach
"Thank you for a wonderful day. Everyone had a great time. I never saw so many smiles. We will always remember that trip as one of our most beautiful days." -- Valerie Lagakis, Achilles Program, Nassau Community College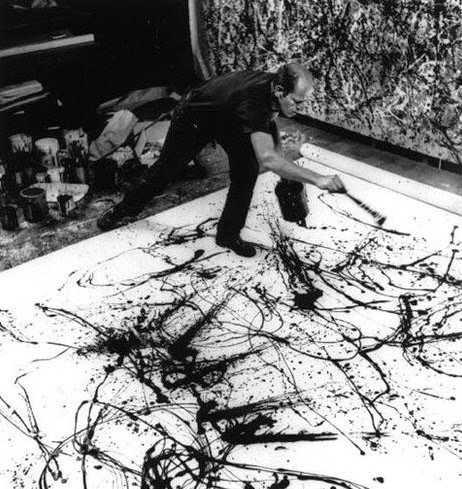 Joyce Raimondo is the Education Coordinator for the Pollock-House and Study Center. Guided by Joyce, students grades 3 and above, visit the home and studio of the abstract painters Pollock and Krasner - a national landmark in East Hampton. Then sketch or paint outdoors on the spectacular grounds overlooking Accabonic Harbor.

In-school Pollock assemblies and drip painting workshops are available on a limited basis to eligible schools. . Offered by the Pollock-Krasner House and Study Center, trips and programs start at only $1 per student.

Curriculum Connections: local history, museum studies, learning from primary sources, visual literacy, art history, social-emotional learning

The Imagine That mural team, directed by the acclaimed author-illustrator Joyce Raimondo, paints with students to create an uplifting character education mural tailored to your school. The mural illustrates your school slogan, character words, colors, and mascot. Input from the principal, PTA, and teachers, of the mural sketch is welcomed. The Imagine That! mural team folds into the art teacher's schedule of classes to paint the wall mural with every student in your school participating. Or, choose one or two grades to paint the mural. During each session, prior to painting, our mural teachers lead discussions with the students about the character education words illustrated in the mural. For example, "What does respect mean? How might we show respect when working on the mural today?" The program serves as an inspiring and unifying project that lasts for years to come.
Curriculum Connections: social-emotional learning, character education, anti-bullying program, anti-drug, visual literacy, art of illustration
Frequently Asked Questions - Arts-in-Ed
How do workshops differ from what an art teacher does?
Formerly at The Museum of Modern Art, Joyce Raimondo is a leading expert in visual literacy - teaching young audiences how to "read" pictures. Her groundbreaking questioning technique invites 100% participation as students describe and interpret what they see in famous art. Also a professional artist and author, Raimondo discusses her own work and serves as a role model for students on how to follow one's creative vision. The hands-on workshops offer highly innovative techniques that maximize creative thinking. A leader in the education field, Joyce Raimondo has lectured art teachers throughout the U.S. on how to teach art. Through her school workshops, she models -- for teachers and students alike -- how to express one's creative spirit.

What grades?
Grades k – 12 (Discussions and slide shows are adapted to each grade level.)

What is the set up?
School provides scissors, paint, paper, and glue when needed for workshops.
Imagine That! can provide all supplies for an additional fee.
School provides Powerpoint projector, laptop, and screen. Please provide room that is dark enough to show slides. If school does not have this equipment, Imagine That! brings a slide projector.

What is the maximum number of students per slide show/workshop?
100 students per show/workshop to maximize student participation
The same show/workshop is repeated several times in one day.

Each session is 45 minutes to one hour.

Up to three consecutive workshops or slide shows may be scheduled on one day.

Courses and package fees available for school residencies.

Staff development workshops offered.